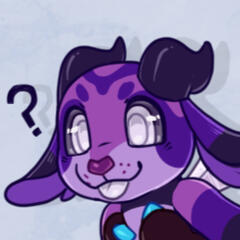 Mauvulous Commissions
MAUVEPRISM [F] LV30
GAMER / ARTIST / OLD WEEB
RULES AND TERMS
Never re-post or edit works for your own. See [CONTACT] for source linking credits.
WILL DRAW

Humanoids, kemonomimis, simple anthro & quad, just ask~

Androids (simple augments, BJD-like), simple robots (ex: WALL-E).

Cuddling, hugging, kissing, etc and mild nudity.
WILL NOT DRAW

Cluttered tiny details or armour with a lot of filigree.

Mechas (robots), guns, vehicles, etc.

Real people (caricatures).

Hentai, Yaoi or Yuri. Anything NSFW.
[open] // closed
AVAILABLE TYPES
CHIBI OR NORMAL
CHIBI YCH (KEBANZU ONLY)
| STYLE | PRICE |
| --- | --- |
| FLAT COLOURS | 10$ |
| FULL / SHADED | 15$ |
| ADDITIONAL SUBJECTS | 75% OF STYLE PRICE |
About
Allright, so like most artists, I started when I could hold a crayon. Mom had a bunch of boxes of drawings, the usual.

Got into anime in the 90s with Sailor Moon, got my first computer at 14, and drew a bunch of weeb stuff in practically every program that had cool drawing features. Used my first tablet so much the cord turned green from usage!

Since then I've graduated to better tablets, art programs, and methods to enhance my art. And with that I decided to try and upgrade myself as well. Rebrand and move away from the limits of high school fanart and unfinished projects lost to the abyss.

That being said, it just means I draw higher quality trash that now includes animals! :D
Contact
I primarily use deviantART and Toyhou.se, but feel free to use TW or IN~